Smartphones are everywhere! Whether you love them, or hate them, you can hardly get away from them any more. As Christians, we should use every tool we're privileged to possess with responsibility. My philosophy about smartphones can be summed up as follows:
(Smart, in this case having a very broad semantic range, of course.) So, without further preamble, let's get to some of my recommendations for "smart" apps that can come in handy to a student of Greek.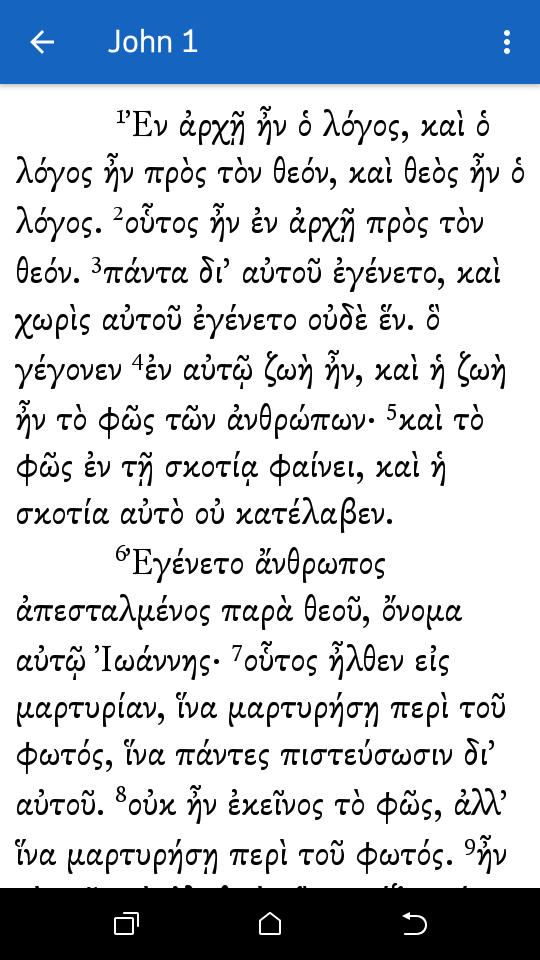 Of all the apps on my phone that fall into the Greek category, this is the one I currently use the most. Note that I do not recommend reading your Bible, (whether Greek or English) on your phone, (or any other electronic device, for that matter.)** I use this app mainly as a quick reference when I need to quickly look up a passage in Greek or a particular word's definition or parsing.
What I like about it:
The font! I'm rather picky about Greek fonts, (some are just plain awful!) but this one is pretty nice.
One-tap glosses and parsing! This is really nice for those obscure words or parsings that stump you.

I'm not sure where the parsing info comes from, but the definitions are from Mounce's Concise Greek-English Dictionary. Take note of the "concise" in the title of that dictionary. This is not BDAG, so you'll only get one or two of the "main" meanings, but it's still very helpful for a quick reference.
What could be improved:
The app needs a little "polishing." Often when I want to scroll quickly to the end of a chapter, the page will "stick" to my finger, instead of using the "inertial scroll" that most smartphone users are accustomed to.
I'd love to see an improved navigation system similar to the way the Tecarta Bible app does it; just type in the reference and chapter number, and hit enter. Presto, there's the passage you're looking for!
The audio player doesn't seem to work, (at least not on my older device).
The Greek New Testament Reader also has some other neat features that I don't even use! You can choose from several different Bible reading plans, including some by Daniel Wallace that will hopefully motivate you to read your Greek New Testament more!
It also has a handy little vocabulary tool that evidently allows you to study the vocabulary of a particular chapter of the Bible in order to brush up on your skills before you plow through the chapter.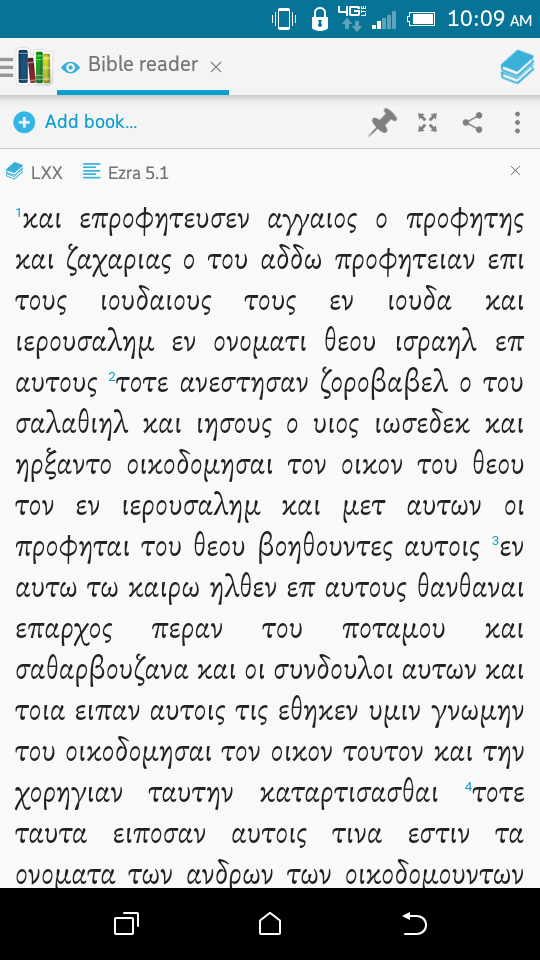 This app is by far the most versatile of the bunch! Want to look up Mounce's, Strong's, or Thayer's definitions of a Greek word? No problem, the Bible Lexicon can do it for you! (After you download the appropriate modules, of course). Want to look up a specific edition of the Greek text? (e.g. the SBL, BYZ, LXX, WH or the TR?) They're all available to download for free! What if you want to compare a particular verse in all those different editions? It's as easy as 1, 2, 3.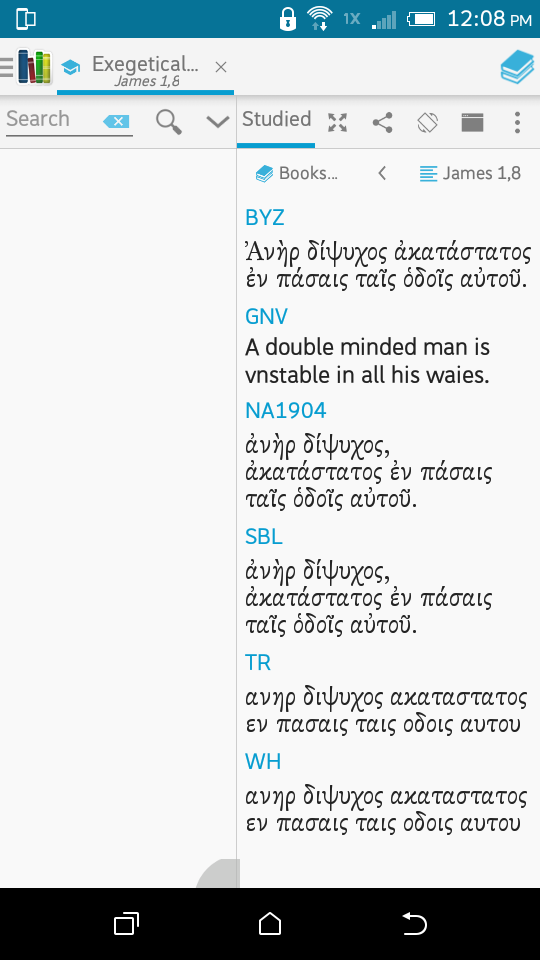 This app leaves a few things to be desired in terms of its user interface as well, but its versatility definitely makes up for the little quirks in the UI.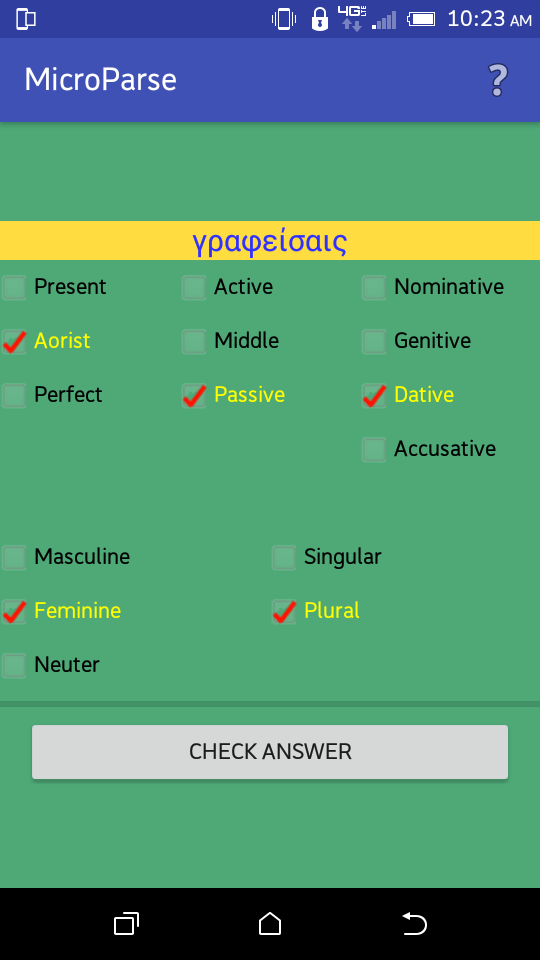 This little app costs $0.99, but it's worth every penny, especially if you are studying Greek using Bill Mounce's Basics of Biblical Greek (BBG), since it was intended to be used together with that course.
You can parse nouns, verbs, and participles using words that you are already familiar with, and even select which chapter of BBG you're on, so you aren't seeing words or parsings that you haven't learned yet! It also has a vocabulary section for reviewing your vocab, but I found that it did not follow Mounce's definitions exactly, so after a little research, I found a better solution for reviewing vocab….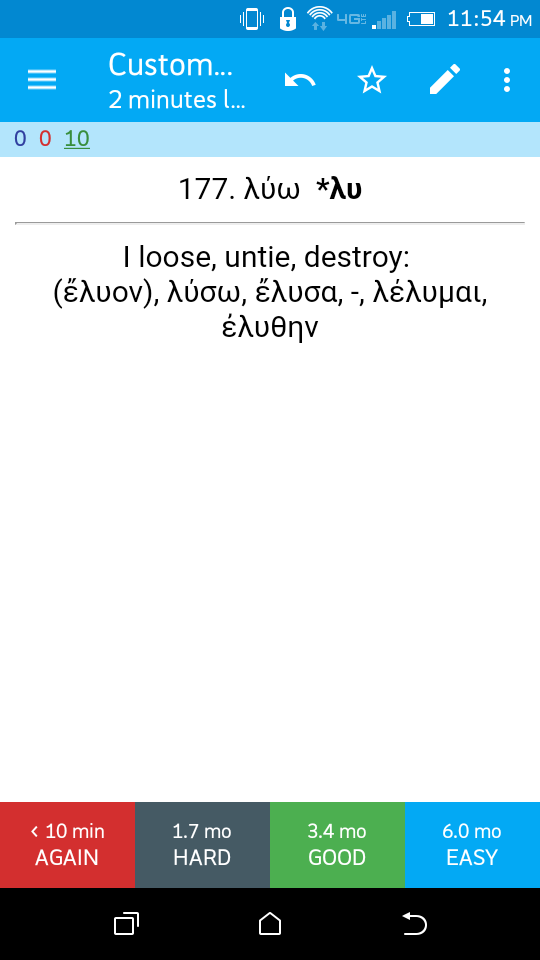 Anki is a flashcard memory system that is specially engineered to help you memorize, and then review what you memorized to keep it in your memory. They call it "spaced repetition." Obviously this app has much wider applications than just Greek, but I was happy to find a shared deck on the Anki website that contained all of Mounce's 1000 flashcards! With a little customization, it fit my purposes admirably, and I owe my Greek quiz grades partly to this app. 🙂
Here's my customized version of the 1000 flashcard deck. My customizations include: adding Chapter tags to the first 320 cards that are used in BBG, so that the chapters can be studied individually, adding roots in bold to all the verbs, and tweaking some of the definitions to match what Mounce gives in his 3rd edition of BBG.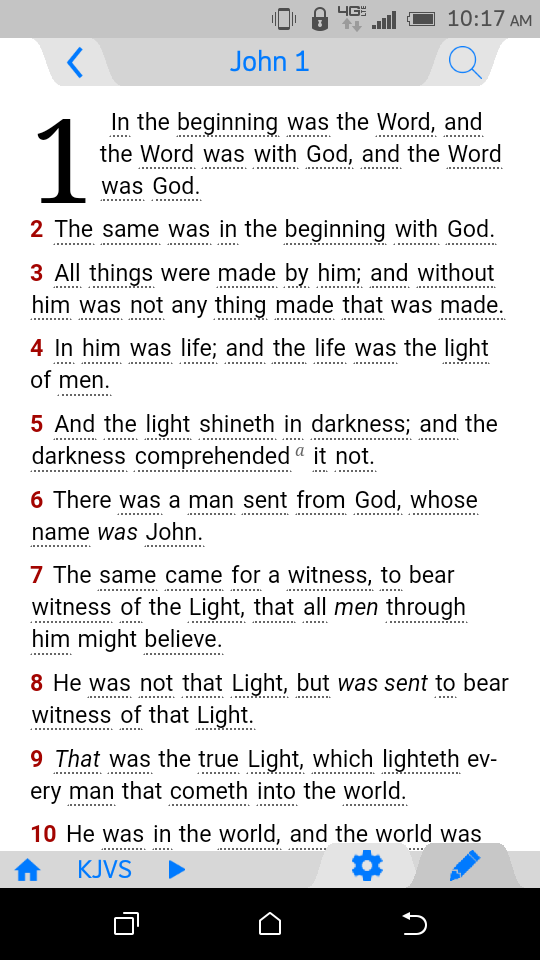 This is my favorite Bible app, and the reason I include it in this lineup is because it offers a Bible version called "Strong's Concordance w/KJV," which is just a KJV Bible with the English words keyed to Strong's numbers/definitions. Just tap and hold the English word you want to look up, and you'll get a menu with an option to view the Strong's entry for the underlying Greek word, as well as a link to search all the occurrences of that word in the rest of the Bible. Very handy for a quick word study when you're in the middle of a debate with a friend!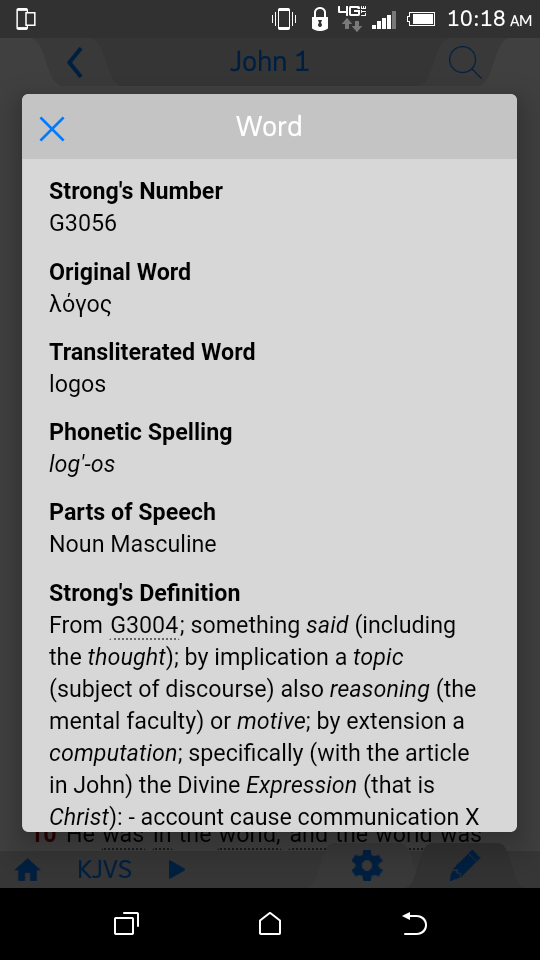 You can use most of the different Bible versions, including the one mentioned above for free with an internet connection, or you can pay $4.99 to download it for offline use as well.
As I already mentioned above, I like the navigation options for quickly finding references in Tecarta.
Conclusion
Hopefully this post inspires you to use your smartphone for something smart! I use these apps frequently, and recommend them for all Android users who want to sharpen their Greek skills.
---
**Please note that linking to an external website does not at all constitute an endorsement of that site or its content. It is unfortunate that so many sites with otherwise useful content are plagued with awful content in the sidebars and "recommended content" sections. 🙁 Please use good judgement. I highly recommend using an ad-blocker (I use this ad-blocker) and/or a browser that automatically blocks ads that allows you to also hide sidebars (and elements other than ads) that are not suitable for a Christian's eyes.