The inspiration for this post comes from this excellent article, entitled "Greek Hymns of the Early Church".
(This post is a work in progess… Check back later for additional additions!)
Oxyrhynchos hymn

The Greek text:
[Σε Πάτερ κόσμων, Πάτερ αἰώνων, μέλπωμεν] ὁμοῦ,
πᾶσαι τε Θεοῦ λόγιμοι δο[ῦλο]ι.
Ὅσα κ[όσμος ἔχει πρὸς ἐπουρανίων ἁγίων σελάων.]
[Πρ]υτανήω σιγάτω, μηδ' ἄστρα φαεσφόρα λ[αμπέ]σθων,
[ἀπ]ολει[όντων] ῥ[ιπαὶ πνοιῶν, πηγαὶ]
ποταμῶν ῥοθίων πᾶσαι.
Υμνούντων δ' ἡμῶν [Π]ατέρα χ' Υἱὸν χ' Ἅγιον Πνεῦμα,
πᾶσαι δυνάμεις ἐπιφωνούντων· Ἀμήν, Ἀμήν.
Κράτος, αἶνος [ἀεὶ καὶ δόξα Θεοὶ δωτῆρι μόνῳ πάντων] ἀγαθῶν·
Ἀμήν, Ἀμήν."

— Oxyrhynchus hymn fragment1
This fragment from a papyrus, found in Oxyrhynchos, Egypt "gives us five lines from a Christian hymn to the Trinity."2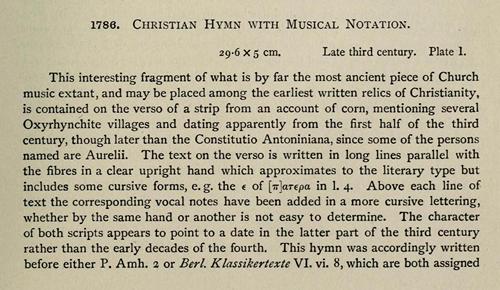 English Translations:
There are numerous translations of the text in English. Here is one from the The Macmillan Book of Earliest Christian Hymns (pp. 62-63)
May none of God's wonderful works
Keep silence, night or morning.
Bright stars, high mountains, the depths of the seas,
Sources of rushing rivers:
May all these break into song as we sing
To Father, Son and Holy Spirit.
May all the angels in the heavens reply:
Amen! Amen! Amen!
Power, praise, honor, eternal glory
To God, the only giver of grace.
Amen! Amen! Amen!
A more literal translation can be found on Wikiversity:
.. Let it be silent
Let the Luminous stars not shine,
Let the winds (?) and all the noisy rivers die down;
And as we hymn the Father, the Son and the Holy Spirit,
Let all the powers add "Amen Amen"
Empire, praise always, and glory to God,
The sole giver of good things, Amen Amen
Musical Notation:
The Greek inscription does not contain just words, however! There are musical markings as well!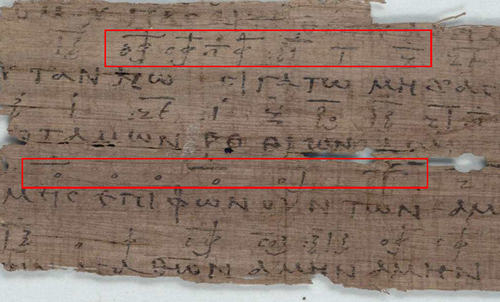 Wikiversity has a musical arrangement based on the original notation here: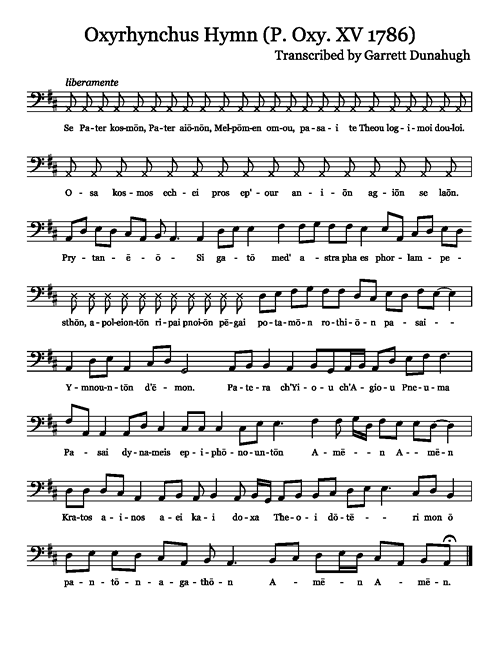 You can find a slightly different musical notation on pages 324-325 of Ancient Greek Music by M. L. West. If you want to read all the nitty gritty details of ancient Greek musical notation, and about this hymn in particular, see Charles Cosgrove's book, An Ancient Christian Hymn with Musical Notation: Papyrus Oxyrhynchus 1786: Text and Commentary for more information than you could possibly want. Listen to Gregorio Paniagua's musical rendition of it on YouTube.
Φῶς Ἱλαρόν (O Gladsome Light)
The Greek text:
Φῶς ἱλαρὸν ἁγίας δόξης ἀθανάτου Πατρός,
οὐρανίου, ἁγίου, μάκαρος, Ἰησοῦ Χριστέ,
ἐλθόντες ἐπὶ τὴν ἡλίου δύσιν, ἰδόντες φῶς ἑσπερινόν,
ὑμνοῦμεν Πατέρα, Υἱόν, καὶ ἅγιον Πνεῦμα, Θεόν.
Ἄξιόν σε ἐν πᾶσι καιροῖς ὑμνεῖσθαι φωναῖς αἰσίαις,
Υἱὲ Θεοῦ, ζωὴν ὁ διδούς· διὸ ὁ κόσμος σὲ δοξάζει.

— Φῶς Ἱλαρόν (O Gladsome Light)3
I finally tracked down an ancient manuscript with the text in it with the aid of this helpful book by James Mearns.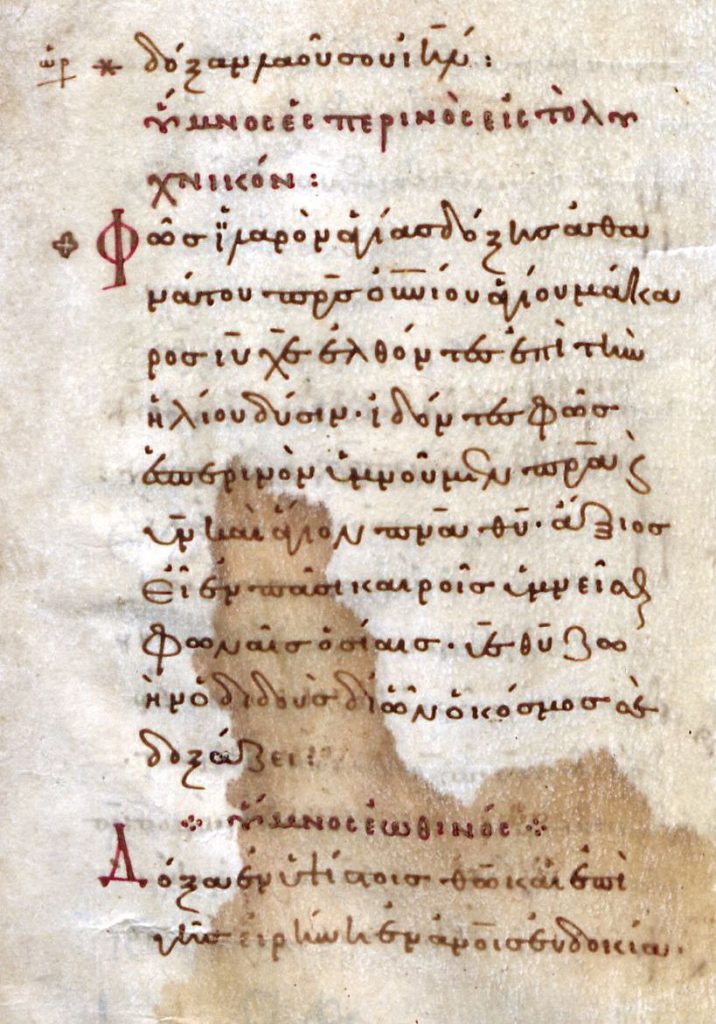 English Translations:
There are many English translations; here's one by R. S. Bridges:
O gladsome Light, O Grace
of God the Father's face,
th'eternal splendor wearing;
celestial, holy, blest,
our Savior Jesus Christ,
joyful in Thine appearing!

Now, as day fadeth quite,
we see the evening light,
our wonted hymn outpouring;
Father of might unknown,
Thee, His incarnate Son,
and Holy Ghost adoring.

To Thee of right belongs
all praise of holy songs,
O Son of God, Life-giver;
Thee, therefore, O Most High,
the world does glorify
and shall exalt forever.

Translated by Robert Seymour Bridges (1844-1930); Source: Hymnary.org
John Keble also made a translation entitled "Hail, Gladdening Light". Wikipedia lists several more translations in English, as well as many other languages.
Musical Notation:
There is a very old copy of this song in the Yattendon Hymnal (1899) translated by the editor of the hymnal, Robert Bridges.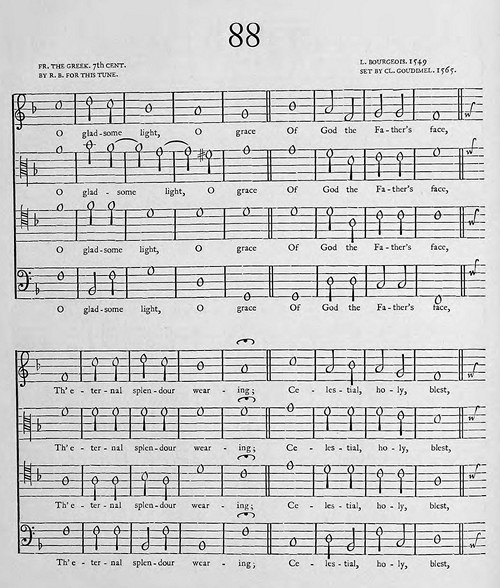 Here's a more modern setting: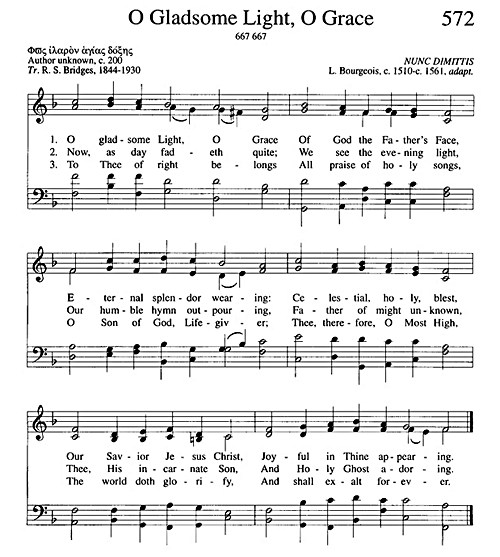 The featured image at the top of the page is from the Theodore Psalter, which dates back to the 11th century AD. (Source: British Library | Add MS 19352 f189v)
Notes:
Greek text source: Wikiversity
Egert Pöhlmann and Martin Litchfield West, Documents of Ancient Greek Music: The Extant Melodies and Fragments Edited and Transcribed With Commentary, (Oxford: Clarendon Press, 2001), 192.
Source: Wikipedia