Here are some links to Koine Greek Scripture recordings that use a more "natural" pronunciation. There's a bit of a mixture between modern and "reconstructed" pronunciations here, but no Erasmian. 🙂
Ben Kantor
KoineGreek.com
FREE (parts of NT)
Byzantine Text/Vaticanus
These recordings of the Greek New Testament are excellent, but unfortunately only the gospels of Mark and Luke are complete at the time of this writing. Hopefully the rest of the New Testament will follow soon! There are also a smattering of chapters from Acts, 1 Timothy, and even the LXX (Genesis 1).
Buth's recording of the Gospel of John and 1-3 John are my favorite GNT recordings so far. Buth's accent and pronunciation is extremely clear and easy to understand. (Here's a page with sample recordings.) This recording is a bit slower as well, so it's easier for beginner Greek students to follow along. Highly recommended! I only wish that he would make more CDs!
Α.Χ.Β. (π. Ραφαήλ)
vivlos.net & Youtube.com & Bible.is
FREE (entire OT & NT)
Ecumenical Patriarchal Text 1904
I just recently ran across the vivlos.net site, and was intrigued because it features both the Old and New Testaments in Greek in a modern pronunciation very similar to what I learned at Greek class! Unfortunately, they are encased in Adobe Flash which has been deprecated… 🙁 The good news is that there is a NT recording available at YouTube.com (Majority Text)! Beware that this guy can read very fast!! You'll need your speed-reading glasses to keep up with him. 🙂 The 1904 Ecumenical Patriarchal Text is available to read along and listen at Bible.is in both Old and New Testaments. You can also download the audio for offline listening, (search for "Greek", and fill out the form).
Good news! If you have the popular YouVersion Bible app on your phone, then you have free access to these recordings already! Just go the "Languages" option, and select "Ελληνιστική Κοινή", then BYZ04 and start listening!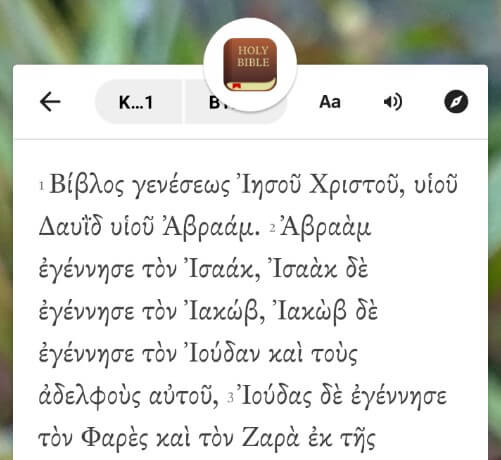 I just recently heard of these recordings! His pronunciation is very close to π. Ραφαήλ's (above) and either of these would be a good option in my opinion. If the π. Ραφαήλ's recording above is too fast for you, then check this one out; he reads at a more "measured" pace. See also this YouTube playlist with the same audio where you can read along as you listen! If you want higher quality audio, check out the 160 kbs download here. The source for these files, as far as I can tell, is: https://christthetruth.net/2012/06/23/free-greek-audio-bible/
Peter Gilbert
bekkos.wordpress.com
FREE (entire NT)
Majority Text(?)
Yet another reading of the Greek New Testament with good pronunciation, and a very nice reading voice! (Sounds like a basically modern pronunciation to me). The reader makes it clear that this is not a professional/polished recording, but that they "are meant for my own use, and for my practice in reading the language aloud; if they prove helpful to anyone else, thanks be to God." Unfortunately you'll have to download the chapters one by one from his blog post.
The pronunciation in these recordings is a bit different; not quite reconstructed, and not quite modern. Just thought I'd give you one more option to check out if you haven't found your favorite Greek voice yet!
Dr. Spiros Zodhiates
MP3 CD at Christianbook.com
PAID (entire NT)
Nestle-Aland 26th edition
I do not own this particular recording, but wanted to list it here for the sake of completeness. You can listen to a sample on the ChristianBook.com website (or here at archive.org) before you purchase. ISBN: 9780899571201
BONUS: Christophe Rico
polisjerusalem.org
FREE (parts of NT)
These recordings are technically Erasmian pronunciation, but still much better than most Englishized "Erasmian" pronunciations out there. 🙂 Here's a YouTube playlist with the same recordings.
For a much larger listing of Greek audio recordings (including lots of modern and Erasmian pronunciations) check out Louis Sorenson's page archived from letsreadgreek.com
Hat tip to Daniel Streett and those who left comments on his blog post.
Featured photo by William Iven on Unsplash